Regular price
Sale price
$690.00
Unit price
per
Sale
Sold out
Say goodbye to unwanted machine breakdowns and technical failure with Preventative Maintenance!

Prevention is better than cure. Regular maintenance of your espresso machine is crucial to ensure it stays in optimal condition so you'll pull a good shot of espresso time after time.
Type of Package

| | |
| --- | --- |
| Bi-Annually | Quarterly |
| 2 service session in a year | 4 service session in a year |
| 1st session to be done within 6 months from date of purchase of the Preventive Maintenance package | 1st service to be done within 3 months from date of purchase of the Preventive Maintenance package |
| 2nd session to be completed within 6 months of the first session | Subsequent sessions to be done within 3 months of previous session |
Product Details

Each Preventive Maintenance session will cover the following:

On-site thorough inspection and diagnosis of the machine's current condition including ensuring that the temperature and pressure of the machines are at optimal range, and that the water piping system are in good condition
Replacing wear and tear parts listed in Preventive Maintenance parts kit*
Cleaning of serviceable parts of the machine
Advising on parts replacement that are critical for the machine to work
Descaling, including thorough interior cleaning of machine with food safe chemical to remove mineral build up (limited to once per package)
Advise on critical part replacement if any#

*Preventive Maintenance parts kit include:

Replacement of gasket, ruby jet, screen for all group heads each visit
One replacement of steam rebuild kit per package
One descaling session per package

#Preventive Maintenance does not include repairs and services. Should there be any need to replace or replace critical parts, cost will be calculated separately.

Have more questions on Preventive Maintenance? Ask us via WhatsApp!
Terms & Conditions

Full payment must be made for package to commence.
Maintenance hours are from 10am - 6pm.
Any servicing or repairs falling outside of the Preventative Maintenance agreement will be:

- Charged at a rate of $80/hr (excluding cost of machine parts)

- Carried out if it affects operational functionality of the machine and total costs falls under $300 (including GST)

We cannot undertake and are not responsible for the installing/testing/repairing of any machine other than the one that is mentioned in this agreement.
A 1 month warranty applies on all parts that are replaced
Parts listed in the agreement will be consumed on a scheduled basis, or if required in advanced. Any part consumed that is not included in the Preventative Maintenance package will be charged separately.
Share
View full details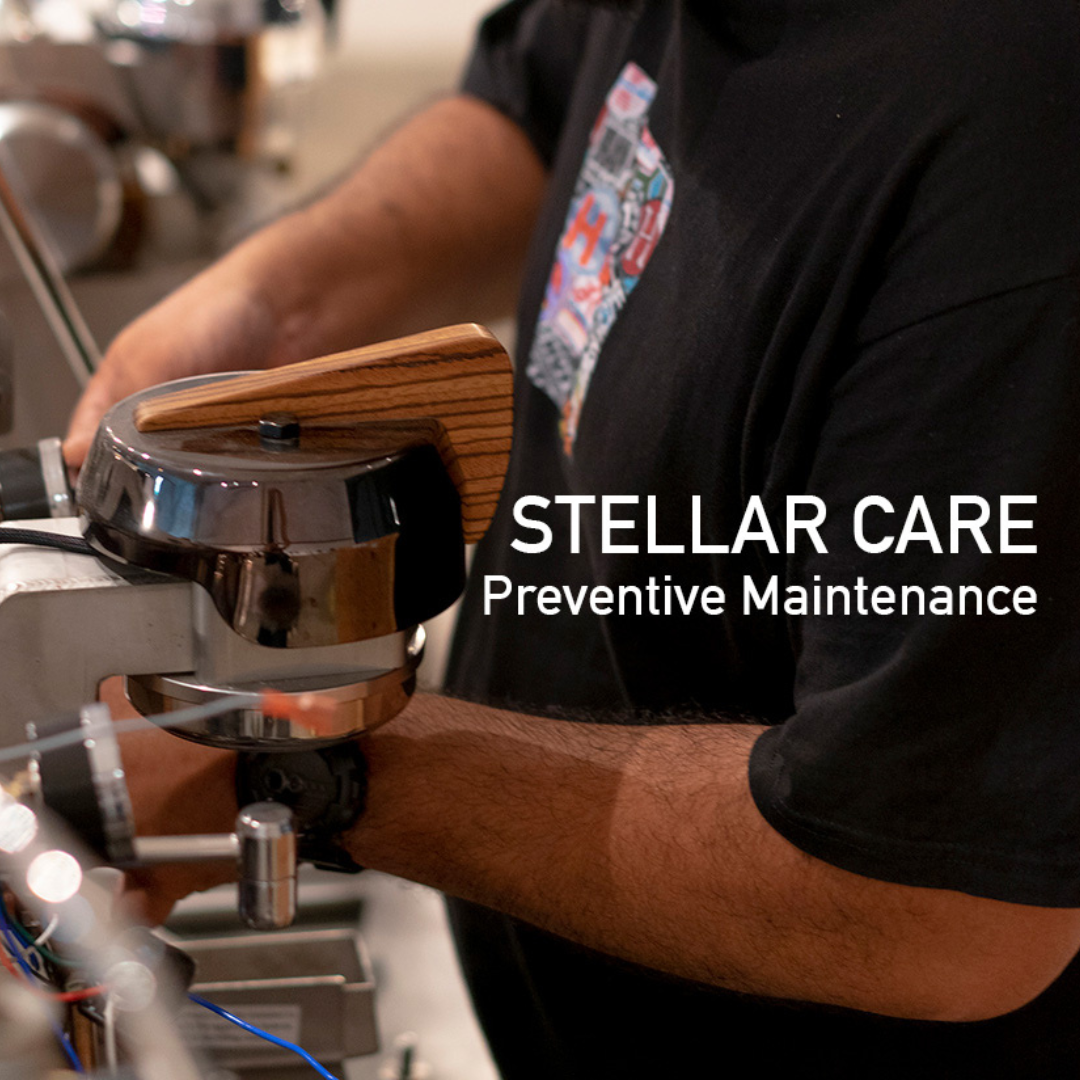 FAQ
Why should I sign up for this package? What does it cover?

We believe you deserve to have a great coffee making experience uninterrupted by random machine breakdowns due to wear & tear or under-servicing. Let us take care of your machines so you can brew good coffee cup after cup.

Find out more about what the Preventive Maintenance package covers here.
What is the validity of the Preventive Maintenance package?

The package is valid for a year from date of purchase. If you opt for a bi-annually package, the first session needs to be booked within the first 6 months of purchase. If you opt for a quarterly package, the first sessio needs to be booked within the first 3 months of purchase.
I bought my machine from another dealer, can I still buy a Preventive Maintenance package?

Yes! However, do note that Preventative Maintenance packages are only valid for machine brands that Stellar M distributes. Not sure if we carry the brand of your machineCheck with us!
How do I book an appointment for Preventative Maintenance?

Once you've purchased the package, our service team will be in contact with you to book the first service appointment.