The KB90 sets a new standard in high value performance striving to make great espresso,
faster - cleaner - easier
KB90, the ultimate progression in espresso machine design where form meets function.
With its patented Straight In Portafilter innovation, KB90 removes the need to twist the portafilter in the way the barista operates the machine, revolutionizing the espresso-making paradigm and significantly reducing the risk of wrist injury.
This latest addition simplifies and eases the motion of locking-in the portafilter to the group-head, setting a new standard in performance in high volume cafés.
Named after the community renowned Kent Bakke, former La Marzocco International CEO and now Chairman of the Board, KB90 is inspired by the tried and trusted Linea PB model, presenting a familiar 3-button user interface and auto-volumetrics.
Straight in Portafilter : The revolutionary straight in design, simplifies and eases the motion of locking-in the portafilter to the group head everytime. 
Input the natural workflow and output within a high volume cafe!
Steam Flush : Keep things easy and clean; the KB90 does a flush cycle for you using a small burst of steam and water!
Removing coffee and residues quickly and leaving the espresso tasting its best.
Drip Prediction Algorithm : Automatically stop espresso extraction at the desired moment to ensure target output is reached in a cup. Through this algorithm-based system, there is no compromise to accuracy when you switch between blends. decaf and single origin.
Familiar Interface : Enjoy the reliable user friendly, 3-button keypad and proprietary electronics appreciated the world over, that makes programming intuitive for both baristas and technicians – and brewing an immediate and pleasant experience.
Linea PB Logic : Based on the bestseller Linea PB, the KB90 is equipped with many of the trusted and tested components of the Linea PB, making servicing easier without the need for new parts inventories.
Easy Rebuild Steam Valve : The KB90 is equipped with a new steam valve, accessible directly from the steam knob. In case of regular, preventive or extraordinary maintenance, this feature minimizes machine downtimes.
Pro touch Steam Wand : Barista-friendly ergonomic steam wand that always stays cool to the touch.
KB90 is designed to create an efficient work environment and has also been conceived to make it easier for maintenance. Aesthetically, the body echoes the curves of the iconic Marzocco Lion shield with a retro shape, while celebrating the recent 90th anniversary with a festive red color.
Technical Specifications:
Height (in) 2GP/ 3GP : 2.75 / 2.75
Width (in) 2GP / 3GP : 32 / 41.5
Depth (in) 2GP / 3GP : 24.5 / 24.5
Weight (lbs) 2GP / 3GP : 170 / 223
Voltage (VAC,phase,Hz) 2GP & 3GP : 208-240, 1, 60
Amperage (A) 2GP / 3GP : 30 / 50
Element Wattage (W) 2GP / 3GP : 5400 / 7300
Coffee Boiler (liters) 2GP / 3GP : 1.3 x 2 / 1.3 x 3
Steam Boiler : 2GP / 3GP : 7 / 11
Certifications : UL-197, NSF-8, CAN/CSA-C22.2 No. 109
Share
View full details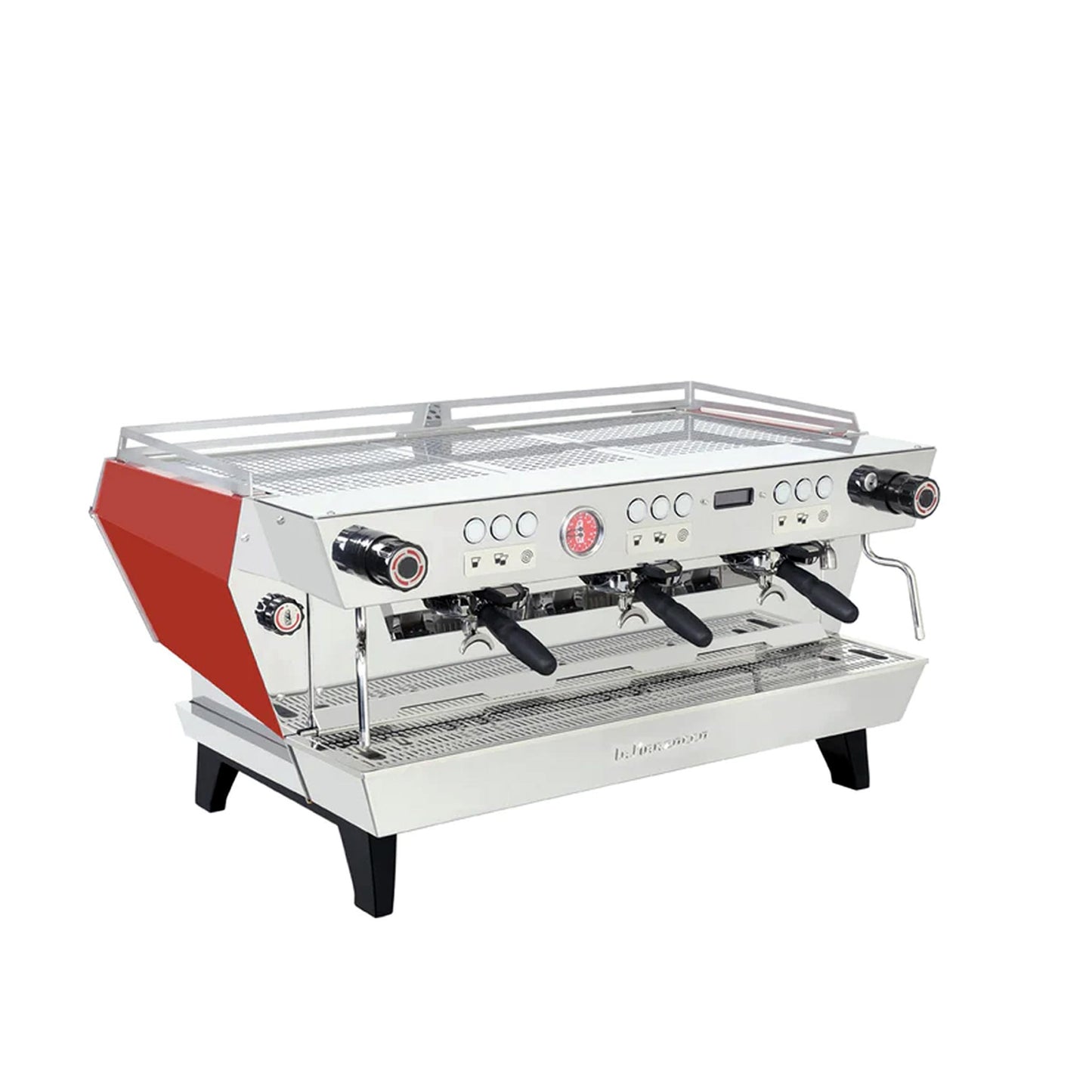 Interested? Contact Us Now!